From a Wholesale Squid Distributor to an Onsen-Ryokan….
An inn that has lasted for 100 years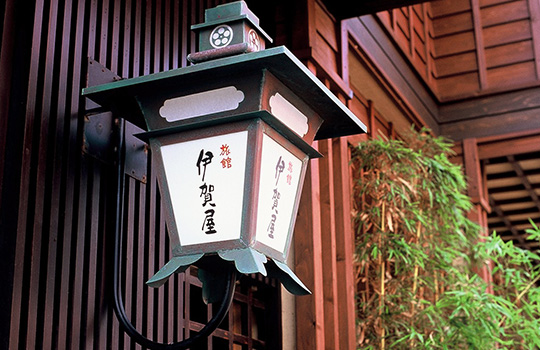 Greetings from the Okami (proprietor), Rieko Yamasaki.
Igaya Ryokan is located on one of the Amakusa Islands in the far west corner of Kyushu.
The Amakusa people have for centuries made a living from the sea;
this has also led to a deep connection between Europe and many more countries around the world.
This connection brought about an exchange of goods and culture from overseas such as Christianity
and printing technology, and through these encounters, Amakusa has created its own style and culture.

I am the sixth generation proprietor of this Igaya Ryokan,
and have heard that at the time when my ancestor first established this ryokan
it was flourishing not only with guests seeking health benefits from our hot springs,
but also with a great number of travelling traders. Previously,
during the Edo period (1603~1867), we were a wholesale squid distributor and made our living from the sea.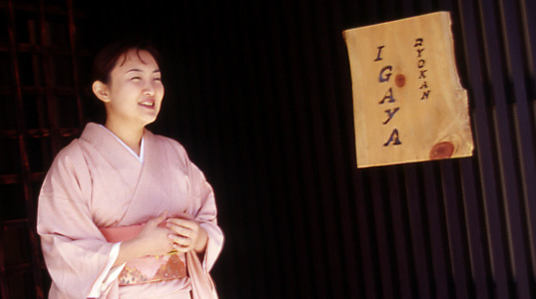 Since its foundation by my great-grandfather in Meiji period (1868~1912),
Igaya has grown to become the longest-established ryokan at Shimoda Hot Springs.
However, in recent times, I started to hear disappointed voices from the guests that have stayed at the Hot Spring Village.
Since then, I have started to collect reviews from our guests on a daily basis
and discussed the matter with the staff to see how we can change to increase our customer satisfaction.
Through this process, I realized that many systems had already become redundant but were still used in our ryokan.
After much consideration, I have once again realized the importance of our three pillars, and vowed to provide the ultimate customer satisfaction through "quality food, sleep and hot springs".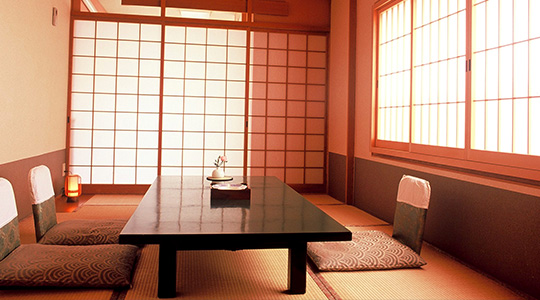 < "delicious meal", "peaceful night's rest", and "quality natural hot springs"> The above three pillars of our service have been passed down for generations since the establishment of this ryokan. In 2004, Igaya went through a full renovation in order for the long-established inn to adapt to the modern world. Our ryokan still bears the nostalgic traditional feel from the time of establishment, valuing the sense of harmony with the changing seasons. We aim to provide Amakusa's traditional warm and hospitable customer service to all our guests. Japanese-style wooden architecture has been used for the exterior of Igaya to embody the essence from the time of its foundation. Upon entering, you will step in to the lobby paved with Ryukyu-tatami mats (Okinawa style rice straw mats). Solid wood has been used to create the hallway, and all guestrooms are traditional Japanese-style rooms. We pride ourselves in the hygiene and cleanliness of our establishment. We are a small ryokan of only 10 guestrooms but we vow to cater to our guest needs for "ultimate customer satisfaction". We value your business, and we look forward to serving you during your future stay at Igaya.
There used to be a public bath called "Murayu" in Shimoda. By the late 1800s some Japanese inns came to be built around the "Murayu". "Ryokan Igaya" was established at that time and is one of the oldest inns in Shimoda. I am its sixth generation owner. This is a photo of Igaya from the early Showa era (1930s). The man in military uniform on the left is my uncle, the fourth generation owner of the inn. Second from the right, wearing a suit, is my grandfather, the third generation owner. Some people say I look like my grandfather. The man in the center is a businessman who was in charge of the port operations.

In the Meiji era, the inn signs said "traveler's accommodation" in front of the hotel's name. Also, sotoyu ryokan (inn with water from outside) was written on the sign. It meant that each inn didn't own their own hot spring and utilized hot spring water from "Murayu". After 1925 the inns each had their own springs and called themselves uchiyu ryokan, meaning their hot spring water came from the premises.

When I was a child, the fifth generation owner was running the business,
and the main entrance was on the street facing Shimoda Shrine.
As the number of cars increased, the main street of Shimoda changed to its current location,
and the Igaya main entrance was altered accordingly.

This is Igaya, soon after I took over ownership. It is hard to see in this photo, but it had buildings with pink walls reminiscent of Mexico or Southern Italy. It stood out in Shimoda. At that time, "Flower Inn Igaya" was famous for its rose baths. We still put roses in the bath water, and although it was very rare back then, nowadays this practice has become common at many other inns.

Hirofumi Yamasaki, the current and sixth generation proprietor of the Igaya Ryokan, also opened a subsidiary ryokan "Ishiyama Rikyu Gosoku-no-Kutsu".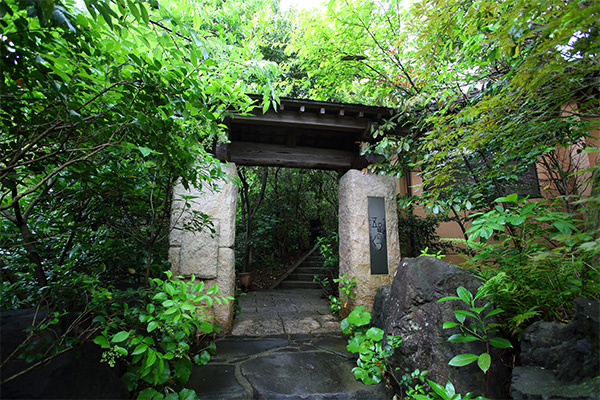 Gosoku-no-Kutsu, a Japanese-style inn featuring all guestrooms as individual units,
each equipped with its own private open air bath, opened its doors in 2002.
It is located a 3-minute drive away from Igaya Ryokan on a hillside overlooking the East China Sea.
The modern and unique new style of the ryokan has attracted many guests from all over the country.
About Us
Guestrooms
10 guestrooms (all rooms are traditional Japanese-style rooms with tatami-mats)
2 rooms of 6 tatami mats (approximately 10 m2), 7 rooms of 8 tatami mats (approximately 13 m2),
1 room of 12 tatami mats (approximately 20 m2)
Each room has air conditioning, television, refrigerator, in-room safe, and a bathroom with warm water bidet.
Facility
Banquet Hall
Check-In Time
from 3:00 PM
Check-Out Time
by 10:00 AM
Amenities
Face towels, bath towels, toothbrushes and toothpaste, shampoo, conditioner, body soap, yukatas (traditional Japanese cotton robes), hair dryer, razor, shower cap, cotton swabs, hairbrush, facial cotton pads, facial cleanser, toning lotion, emulsion
Price
Overnight stay including two sets of meals from ¥10,000 (excluding tax)
(additional charge of ¥2,000 (excluding tax) for Saturdays or the day prior to a public holiday)
Dining only plan from ¥5,000 per person.

*Please feel free to contact us in regard to the types of meals offered.
*Private rooms are available for day use. The room charge is ¥3,000 (excluding tax) for 3 hours.

We accept the following credit cards: VISA, JCB, MasterCard, AMEX, NICOS.