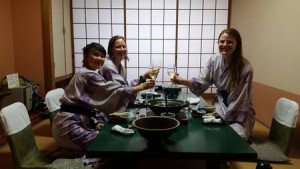 The trip I recently took to Ryokan Igaya was extraordinary.
I had never been to a Ryokan before but knew I had to go before leaving Japan.
A place like this seems to exist outside of time where you truly get to experience traditional Japanese culture in a beautiful tranquil location.
I have lived in Kumamoto City for the last year teaching English
and Amakusa is my favorite place to visit. Amakusa has the most stunning beaches,
breath taking sunsets, dolphin watching, hidden waterfalls,
delicious sea food and countless other places waiting to be discovered.
We cycled from Hondo to Ryokan Igaya and as soon as we arrived it seemed like a great idea to go to the onsen.
The onsen was serene with its water coming from natural hot springs.
There are beautiful touches, such as roses floating in the wooden bath
and the fun purple yukatas with ninja images on them.
Dinner was the most creative and delicious meal I have ever had.
It was five courses mostly consisting of amazingly fresh seafood.
The presentation followed the ninja theme utilizing dry ice and fire.
Though, I am sure you will be amazed by the food don't forget to go for a walk to the beach
and watch the sunset.
I had an amazing time at Ryokan Igaya and
I encourage everyone to see the beauty at this special place in Japan.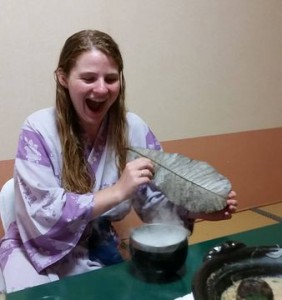 ブログの読者になる